Matching Gifts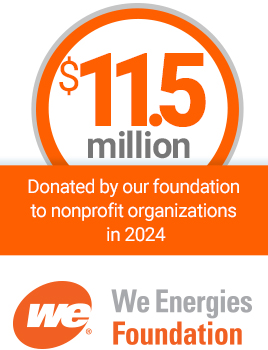 The Matching Gifts program is designed to encourage current and retired employees of We Energies to support nonprofit organizations within our communities.
The We Energies Foundation will match $1 for each $1 of eligible active and retired contributions. The minimum contribution to any one organization that will be matched is $50. The maximum match per fiscal year ending Dec. 1 is $20,000. Any application received after Dec. 1 will be processed in the first quarter of the following year.
A completed online application is required for a matching gift. To maintain integrity of our 501(c)(3) status, we must receive acknowledgement in the active or retired employee's name from the nonprofit organization indicating the tax-deductible amount of the contribution. A copy of a check or canceled check is not sufficient. No goods or services may be exchanged for a donation.
Contributions can be made in the form of cash, check, credit card, stock in a publicly traded company or a donor-advised trust disbursement.
Eligible individuals
Active employees of We Energies are eligible to participate. We Energies employees who retired before Jan. 1, 2006, but not surviving spouses, are eligible to participate indefinitely; those who retired on or after Jan. 1, 2006, may participate for only one year after their retirement date. Eligibility guidelines and contribution amounts are the same for active and retired employees.
Eligible contributions
Contributions to organizations in the categories below may be eligible for matching funds. Each organization must be tax-exempt under Section 501(c)(3) of the Internal Revenue Code and located within the company's service area unless otherwise noted.
Arts and culture (must be located in Wisconsin or Michigan's Upper Peninsula)

Education (including accredited K-12 schools in the We Energies service area or post-secondary educational institutions in the U.S.)

Health and human services
Gifts of cash or marketable securities must be paid, not merely pledged. Securities must have quoted market value.
Memberships in cultural organizations (such as public television) are eligible when they are tax-deductible and function primarily as contributions. The foundation's gift should not be used to enhance the status of the individual donor.
Eligible active or retired employees must submit their match request and receipt within one year from the date of the gift.
Ineligible contributions
Because our company has many opportunities to give, and limited funding, the Matching Gifts program does not support contributions to these types of organizations:
Organizations with a philosophy or mission that conflicts with company positions

United Way or other combined appeals

Pooled contributions by more than one individual

Civic groups, including fraternal, social or union organizations

Religious or political organizations

Private foundations

Gifts to individuals

In-kind gifts

Gifts fixed by a school as a condition for student enrollment, or payment for tuition, books or other student fees

Gifts to youth or school sports teams wherein any benefit has been received, or to cover fees for enrollment, registration, uniforms, tournaments or traveling for children, relatives or friends of active or retired employees.
Administrative conditions
We reserve the right to suspend, change, revoke or terminate this program at any time, and to determine eligibility of the donor and the recipient organization. No obligation is imposed upon or accepted by the We Energies Foundation by reason of the Matching Gifts program. The interpretation, application and administration shall be determined by the We Energies Foundation and its decisions will be final. Intentional abuses of the program may result in future disqualification of the donor and/or the recipients.
Application
Questions?
Contact the matching gifts coordinator at 414-221-4657.